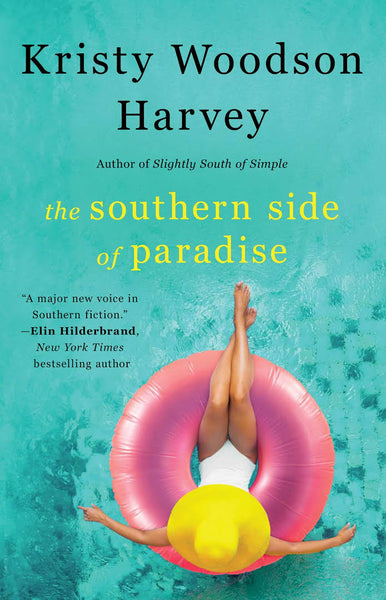 "The Southern Side of Paradise" by Kristy Woodson Harvey
Title: "The Southern Side of Paradise" 
Author: Kristy Woodson Harvey 
*Third book in the Peachtree Bluff Trilogy* 
*Book Summary:* 
With the man of her dreams back in her life and all three of her daughters happy, Ansley Murphy should be content. But she can't help but feel like it's all a little too good to be true.

Her youngest daughter, actress Emerson, is recently engaged and has just landed the role of a lifetime. She seemingly has the world by the tail and yet something she can't quite put her finger on is worrying her—and it has nothing to do with her recent health scare.

When two new women arrive in Peachtree Bluff—one who has the potential to wreck Ansley's happiness and one who could tear Emerson's world apart—everything is put in perspective. And after secrets that were never meant to be told come to light, the powerful bond between the Murphy sisters and their mother comes crumbling down, testing their devotion to each other and forcing them to evaluate the meaning of family.

"Kristy Woodson Harvey has done it again….The Southern Side of Paradise is full of humor, charm, and family" (Lauren K. Denton, USA TODAY bestselling author) and is the ultimate satisfying beach read.